Functional software tests running on real hardware.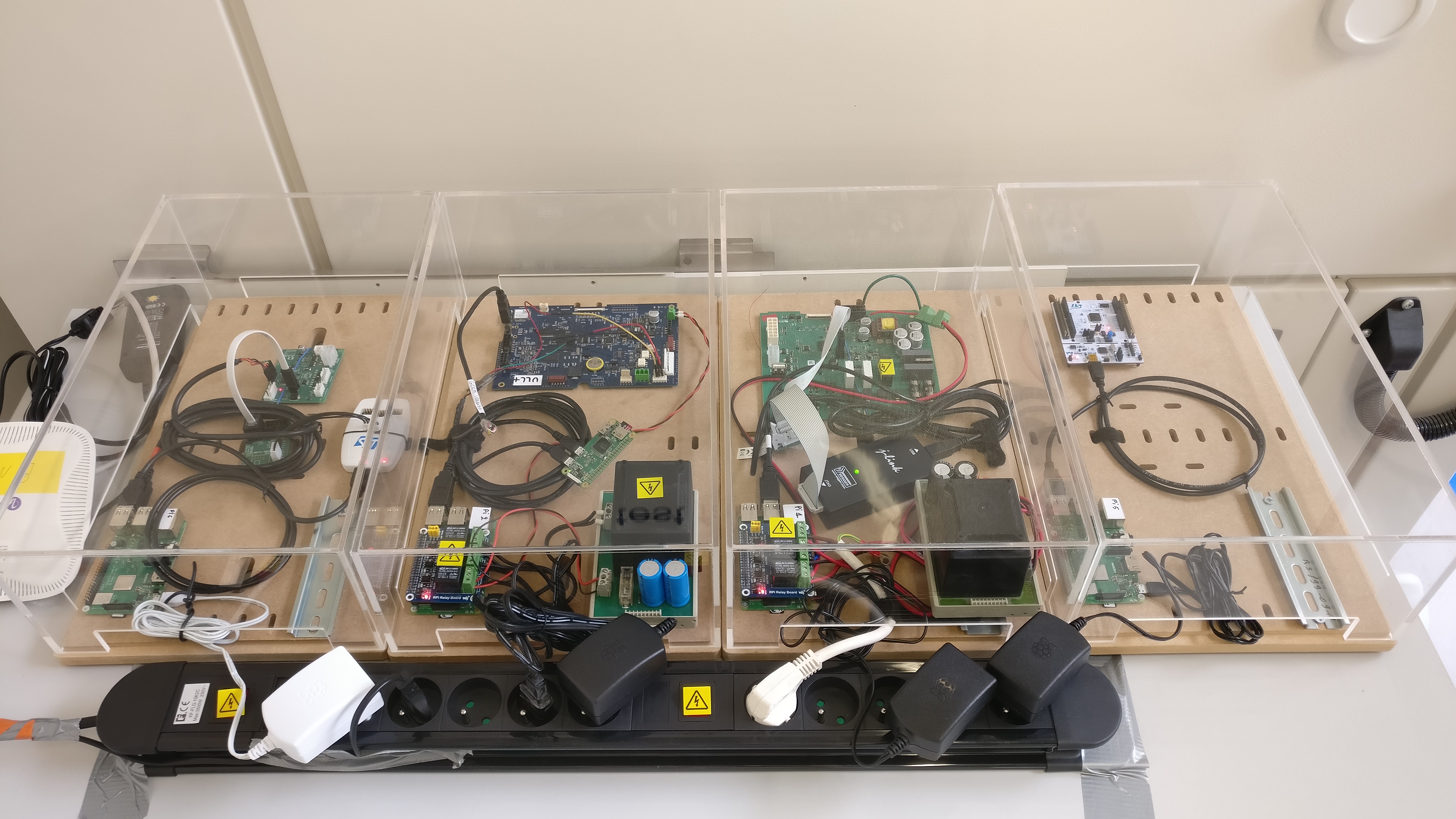 I was asked to come back to E.D.&A. once again to setup a Raspberry Pi based Hardware Test Farm. The (simplified) idea is that the hardware abstraction layer simulates the hardware conditions based in input from the python tests, and sends back any changes to outputs or internal state. This means the layers above the HAL can be automatically tested with as little changes from the production version as possible.
The testing framework was already in use, but was not automated or Linux compatible. I created a mostly automatic setup for the Pis, along with some improvements to the test framework. Several hardware setups where initially added to serve as examples for later additions and to find as many possible issues as possible.
One oddity I'm particularly proud of solving is the way the iMX6 platform is handled. Due to the flashing software required for the setup not having Linux support, I designed an alternative way of loading the software. The bootloader from the project is designed to load updates from an installer/servicemenu's USB key if present. I decided to try to emulate one with a Raspberry Pi Zero Wireless, which worked beautifully after some tinkering. Since the Zero doesn't have a USB hub chip on board, the USB bus from the SOC is directly accessible. This in combination with some scripts and the Linux USB Gadget driver makes the Zero Wireless the ideal automatable USB key.
All of the Pis are Jenkins nodes, and thanks to the Jenkins Pipeline system they are generic. This means if multiple projects share the same CPU, they can usually share a hardware setup.
Thanks to a colleague's CNC skills it also not only looks neat, but the setups are portable. So if there are issues, developers can just go grab the box from the farm, put it on their desk and debug away.
From the internal newsletter:
E.D.&A. gets a Test Farm
E.D.&A. already successfully employed Jenkins for building and monitoring the quality of code and MISRA compliance each night. These past weeks Dries Kennes has extended our Continuous Integration (CI) setup with a Test Farm. This allows us to automatically run functional tests on each platform as part of our CI pipeline to ensure the quality of our code and detect any issues as soon as possible. The Test Farm Dries created consists of a generic solution using Raspberry Pi's, which can program our targets with the latest firmware and run Python based tests on target. Due to the generic nature of the Test Farm new and old platforms and projects can be added.